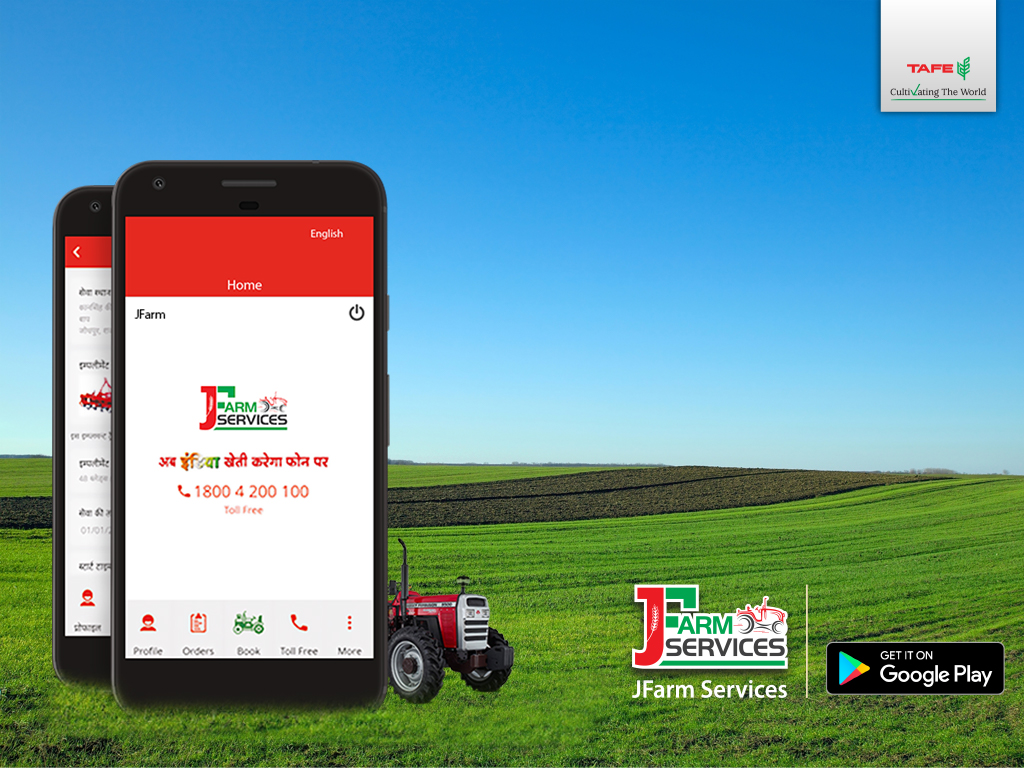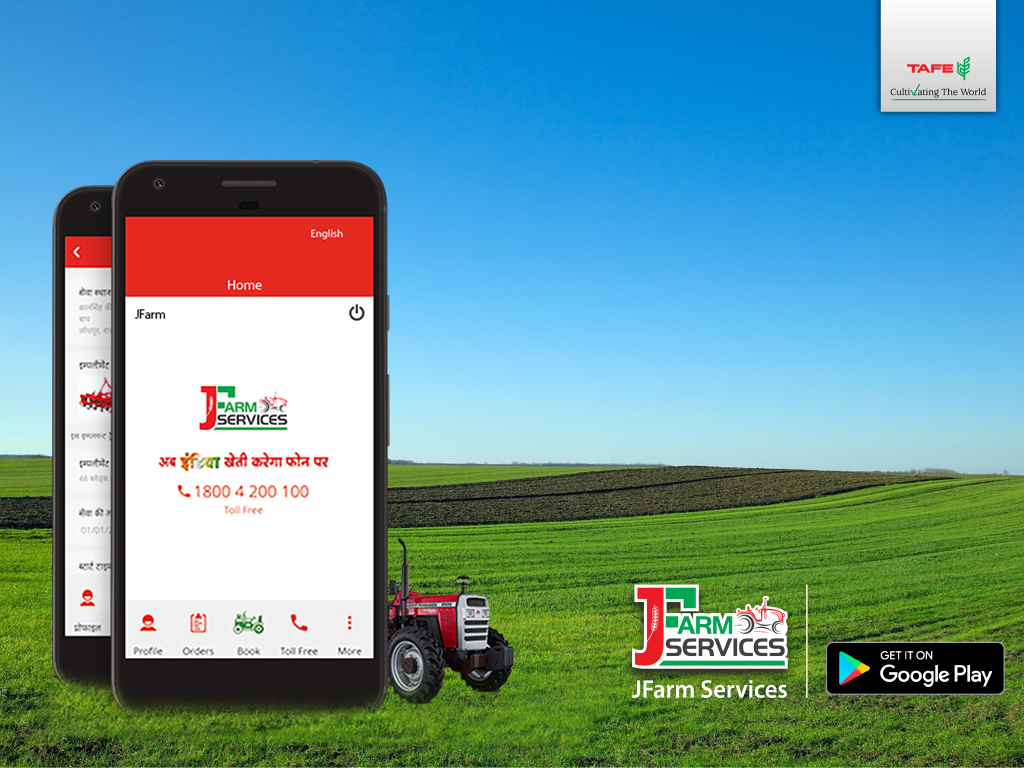 ● TAFE's CSR initiative to support small and marginal farmers
● Farmer-to-Farmer model (F2F)
● Farmers can offer all brands of tractors and implements on rent
● Aids rural entrepreneurship and generates additional revenue for farmers
September 21, 2018: TAFE – Tractors and Farm Equipment Limited, India's second largest tractor
manufacturer, has announced the national expansion of its CSR initiative – 'JFarm Services' and the 'JFarm Services App'. With this pioneering platform, TAFE brings the benefits of the technology-enabled sharing economy to boost the income of Indian farmers. JFarm Services facilitates the hiring of tractors and modern farm machinery to farmers free of cost. Farmers looking to rent their existing tractors and farm equipment are linked directly to farmers seeking to hire them through the free of cost "Farmer-to-Farmer model" (F2F) of JFarm Services app which enables them to contact farmer entrepreneurs, negotiate rental prices and fulfill their respective requirements.
Despite nearly 65% Indians working in the farm sector, India's agricultural yields trail global and emerging market averages. More than 20 crore Indian farmers have little or no access to mechanized tools. Any effort to bring about a paradigm shift in productivity and farm income has to be centered on the small farmers, who account for 86% of India's farmland holding.
Farmers who own small parcels of land across India can now hire state-of-the-art farm equipment to increase their productivity and income significantly. The JFarm Services App and on ground Custom Hiring Centers which are operated by tractor and equipment owners will provide farmers with affordable farm mechanization services in a transparent manner. With JFarm Services' tremendous early success, TAFE is collaborating with various state governments like Bihar, Odisha, Andhra Pradesh, Karnataka, Tamil Nadu and Assam to roll out the JFarm services platform.
JFarm Services initial pilot roll-out covers Madhya Pradesh, Rajasthan, Gujarat and Uttar Pradesh, directly benefiting around 60,000 users resulting in over 100,000 orders, adding up to about 250,000 hours in hired farm machinery usage.
Ms. Mallika Srinivasan, Chairman & CEO – TAFE, said: "The nationwide launch of JFarm Services – farm
equipment rental platform as a CSR initiative is aligned to TAFE's vision of Cultivating the World and our commitment to the economic well-being of Indian farmers. The JFarm Services platform leverages technology to provide free of cost access to rental of farm mechanization solutions and offers an opportunity to build a viable rural entrepreneurship model while augmenting farm productivity and income of small and marginal farmers. With this launch we aim to touch millions of farmers who have no access to farm mechanization and modern technology, while accelerating the progress towards the Prime Minister's vision of doubling farm incomes by 2022."
Mr. T R Kesavan, President & COO – TAFE, said: "TAFE's JFarm Services offers a transparent farmer-to-farmer platform, free of any hidden charges or commissions, that enables farmer entrepreneurs to rent their existing tractors and implements of any brand to farmers who seek to hire modern feature rich products to boost their farm income. JFarm Services is also collaborating with various State Governments to offer customized solutions to increase farm mechanization amidst small and marginal farmers below the poverty line."
Farmers can hire equipment via the JFarm Services android app, contacting the toll-free helpline 1800-4-200-100 or the local Custom Hiring Centres. The App can be used on low-cost Android phones and is designed to run on very little data. Farmers who don't own smart or feature phones can use the toll-free helpline. The platform also provides periodic updates on local weather, market, agri-news and mandi prices without any fee.
Links: JFarmServices.in | JFarmServices Android App | JFarm Services Facebook Page